Philips HR-2505/00 Chopper
Philips HR-2505/00 Chopper At last you can chop like a chef. Philips Onion Chef chopper with Chop Drop technology gives you dry, regular pieces of onion and other ingredients. Thanks to the separate high speed blade you can also grind meat, chop herbs and so much more.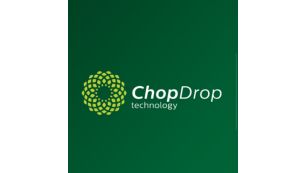 Chop Drop technology
Recognizing how unpleasant and difficult chopping onions is, Philips has cleverly developed Chop Drop technology to allow you to chop them like a chef in an easy way. The uniquely designed chamber keeps the onion in, while the three sharp blades are chopping. Once the pieces reach the optimal size, they are dropped in the bowl: dry & regular every time. Perfect for onions, but also other vegetables, fruit, cheese, nuts & more.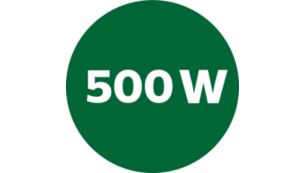 Powerful 500W motor
The powerful 500W motor of the Philips Onion Chef chopper ensures you can chop even hard ingredients quick and easy.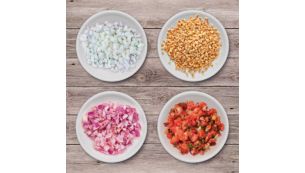 Coarse chopping with Chop Drop
The Philips Onion Chef chopper uses an optimal slow speed for its Chop Drop technology. This ensures you can always achieve dry and regular pieces of onion and other delicate ingredients, such as zucchini, boiled eggs, pepper, mozzarella, as well as hard ones – such as nuts, carrots and more. Ideal for your favorite daily dishes, as well as appetizers (salsa, tzatziki), sauces, risottos and more!